About The Battle for Middle Earth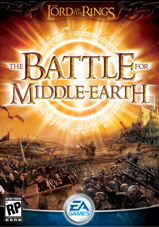 The Lord of the Rings: The Battle for Middle Earth is a game of the RTS genre like no other. It brings Tolkien's world to life with the beautiful C&C Generals improved SAGE engine, by offering new camera views, and the ability to have hundreds of units at a time. Here are just some of the features in the Battle for Middle Earth:
Non-linear campaign for each side (Evil and Good).
A beautiful map, known as the "Living World" to manage your armies on.
Improved unit A.I system
Unit emotions! Watch your units come to life with fear, cheering, taunting, and more.
Control your favorite Heroes of Middle-Earth, such as Aragorn or Gandalf.
Create your own battlefields with the improved World Builder.
Experience battle like never before! Units and buildings will gain veterancy based on how much they are used!
Go online and play others with new and improved online systems!
Control one of four armies, Gondor, Isengard, Mordor, or Rohan!
How will you fight the Battle for Middle-Earth?

To view the system requirements for The Battle for Middle-Earth click here.



Go To Top